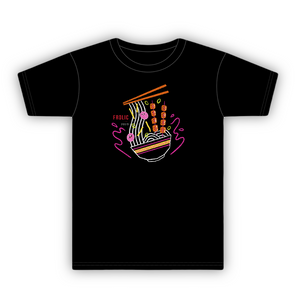 FROLIC's All-In Saimin Tshirt is here and available in very limited quantities. This tee is an absolute must-have for any foodie. Grab all three designs before they disappear faster than a bowl of piping hot ramen on a cold day!
The three designs are a collaboration with the amazingly talented Kelsie Dayna, a local illustrator and artist! So not only will you be expressing your unique style, you'll also be supporting local artists.

Get ready to drool because we've got even more exciting news about FROLIC's All-In Saimin Tshirt! Pre-order it today for the special price of just $30, and as a cherry on top, we're throwing in a collectible Frolic sticker to show off on your water bottle or laptop.